2005 T&C Surf Women's Pipeline Championship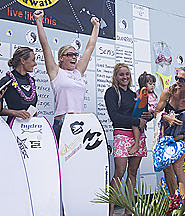 IBA bodyboarding + Surfing & Longboarding
Pipeline, Ehukai Beach Park, North Shore, Oahu
11 - 16 March 2005

T & C Surf Women's Pipeline Championship Finalized
Victories to Australia, Hawaii & California

Surfersvillage Global Surf News , 12 March 2005: - - Honolulu, HAWAII; - Australian Kira Llewllyn (Sunshine Coast, Qld) rose to the top of the International Bodyboard Association (IBA) world rankings after a win in the T & C Surf Women's Pipeline Championship today, held at the famous Banzai Pipeline in wave face heights of four to eight feet. Along with the bodyboarders, the first ever women's shortboard competition was held this week as part of the T & C Surf Championship and was won today by 15-year-old Kauai schoolgirl Alana Blanchard (Hanalei). The longboard final was taken out by Californian Kim Hamrock (Huntington Beach), the oldest competitor in the event at 44 years of age.

For Llewllyn, her victory today over Daniella Ronquillio (Brazil), Mandy Zieren (Australia), and Caroline Casemiro (Brazil), signals a changing of the guard. For over a decade, Brazilian women have dominated international pro bodyboarding competition, but their super-power hold on the sport has only served to fuel women from other nations to push for a higher level.

"It's a changing of the guard for sure," said Llewllyn, 21, who has won at Pipeline before and is no stranger to the finals. "For a couple of years now there have been Australians making finals - today there was myself and Mandy - and I think we put a bit of a whirlwind into the lineup. The Brazilian domination has had such an effect that the rest of the world wants a piece of it."

While conditions for the final were highly contestable at a clean height of 4-8 feet offering top wave scores in the 6-8 point range for Lllewllyn and Ronquillio in the final, it was actually a lot smaller than Llewllyn would have liked it. The bodyboarders are well regarded for their fearless charging at the Pipeline.

"It was a bit small, but there were still some good barrels, and you can hardly say it's not that good if it's barreling! But all year long we look forward to surfing at Pipeline because it's a wave that you can rely on to be big and powerful. I think we would have enjoyed it even more if it had been a bit bigger, but it was fun."

All of today's winners received $500.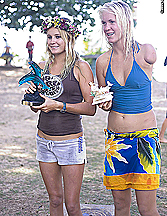 Blanchard was somewhat of a surprise champion in the shortboard division, eliminating world No.8 ranked Melanie Bartels and four other women to claim first place. Conditions in her final were a little inconsistent, offering only the occasional barrel and not a whole lot of open-faced rides. But Blanchard found her way onto the longest, cleanest waves to emerge a clear-cut champion of the event. She surprised none more than herself with the win.

"I just wanted to come here and do the best I could," Blanchard said of her intentions for the competition. "I didn't think I had that many good rides, but I guess it was the same for everyone."

Blanchard's top two scores of 6.83 and 6.33, each out of a possible 10, pushed her 2.5 points clear of second placed Crystal Dzigas (Honolulu). Third place was 14-year-old Punalu'u surfer Ashley Hunter, followed by Brenda Fried (Haleiwa), Melanie Bartels (Waianae), and Kim Hamrock (California) in fourth through sixth respectively.

Hamrock and Dzigas were surfed out by the conclusion of the day's competition, having worked their way through semi-finals and finals of both the shortboard and longboard divisions today.

Dzigas had the crowd going during the final of the shortboard when she pulled into a dredging barrel at the right-hander known as Backdoor Pipe. While she was unable to clear her way through it, it was still regarded as the best tube-ride of the competition.

"I could hear the guys out there (close to the break) yelling for me to go, so I went," said 21-year-old Dzigas. "I always thought that Pipeline was for the guys, but now I'm ready for another one of these events!"

Like the bodyboarders, Hamrock, the winner of the longboard final, probably wished the waves had been a little bigger. A professional surfer for over 20 years, now a mother of four close-to-grown children, Hamrock was just happy to be free to travel to Hawaii and compete in the event. She tapped into a perfect rhythm in the longboard final and had every long, open-faced wave available.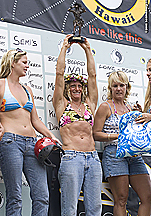 "This was a really awesome competition," said Hamrock. "I'm just happy to have been in it. I am so impressed with the way the girls are surfing. For me, it's just a blessing to be out there. It was so much fun."

The overall consensus was that the inaugural T & C Surf Women's Pipeline Championship was a total success. As the first ever stand-alone women's surfing event at Pipeline, offering three separate division, the event attracted a total of 96 competitors from nine nations.

RESULTS:

Shortboard:
Final:

1st - Alana Blanchard (Hanalei)
2nd - Crystal Dzigas (Honolulu)
3rd - Ashley Hunter (Punalu'u)
4th - Brenda Fried (Haleiwa)
5th - Melanie Bartels (Waianae)
6th - Kim Hamrock (Huntington Beach, CA)

Bodyboard:
Final:

1st - Kira Llewllyn (Australia)
2nd - Daniella Ronquillio (Brazil)
3rd - Mandy Zieren (Australia)
4th - Caroline Casemiro (Brazil)

Longboard:
Final:

1st - Kim Hamrock (Huntington Beach, CA)
2nd - Crystal Dzigas (Honolulu)
3rd - Alex Florence (Haleiwa)
4th - April Grover (Haleiwa)
5th - Marlene Gonzales (Haleiwa)
6th - Caron Farnham (Australia)

The official surfline for the contest and surrounding events will be www.surfnewsnetwork.com
It will be broadcast live via the internet with www.Surfinglive.com
Contest t-shirts will be available at all seven T&C Surf locations and online at www.banzaibetty.com

SUPPORTING SPONSORS: Nextel, First Hawaiian Bank, Surf & Sea, Seaductive Surfwear, Surfersvillage.com, and Banzaibetty.com

Previous reports:
# 1 : T&C Surf Women's Pipeline Championship set for Friday
# 2 : Historic day as women surf alone at the Banzai Pipeline....


Check the latest Hawaii Surf Reports and Forecasts
More Hawaiian & USA Surfing News available here

Betty Depolito
banzaib@hawaii.rr.com

Melissa Ann Pampulov
melissap@tcsurf.com